Pinay & Proud is a tribute to Filipinas from all walks of life who are courageous, nurturing, compassionate and beautiful within.
Today, we feature Ysabel Simon--a proudly Pinay artist who has been making waves in the visual art scene by portraying the colorful Filipino culture through her paintings.
Ysabel Simon's work had the distinctive warmth and intimacy of strong Filipino family bonds and now 18 year old Simon is spreading that warmth in New York. A childhood memory of her grandmother pulling out a 2-inch long "tinik" or fishbone led her to create an oil portrait worthy of a place at New York Metropolitan Museum of Art (The Met).
"Tinik" is part of a portrait series I have been doing for the past year about my family's idiosyncrasies," shared Simon.
Simon's work was included in P.S. Art – a yearly juried exhibition that showcases the best creative work of students from prekindergarten to grade 12. This year, P.S. Art had 1,205 submissions from all 5 boroughs of New York: the works included paintings, photographs, collages, mixed media work, and sculptures. P.S. Art exhibition is staged annually at The Met.
In addition, "Tinik" was also included in the 23 works of art showcase of P.S. Art in Times Square. The students' artworks were displayed on Times Square from June 22 to 26.
A 12th grade student at the Fiorello H. LaGuardia High School of Music & Art and Performing Arts and a recipient of the James Bama Award for Realistic Art, Simon's achievements are nothing short of astounding -- the young artist only started oil painting in 2015.
"I am intimidated to start new projects because it was hard to be confident in a school where everyone was just as good or better. How I overcame that was by putting everything in perspective. God will forever be the greatest artist mankind will ever be able to witness, and He just so happens to be the one who created me to be able to make art. My prayer before every painting is this, "You have given me this gift, please use me to bring glory to your name. Help me paint with your hands through mine".
Highlighting her Filipino Identity with Each Stroke
"It is definitely a conscious decision to incorporate my Filipino identity in the majority of my work. Taking global history classes and art history classes, I found that the Philippines was missing in my lessons. This is why I wanted to make sure that the Philippines was represented through my paintings."
YSABEL IN ACTION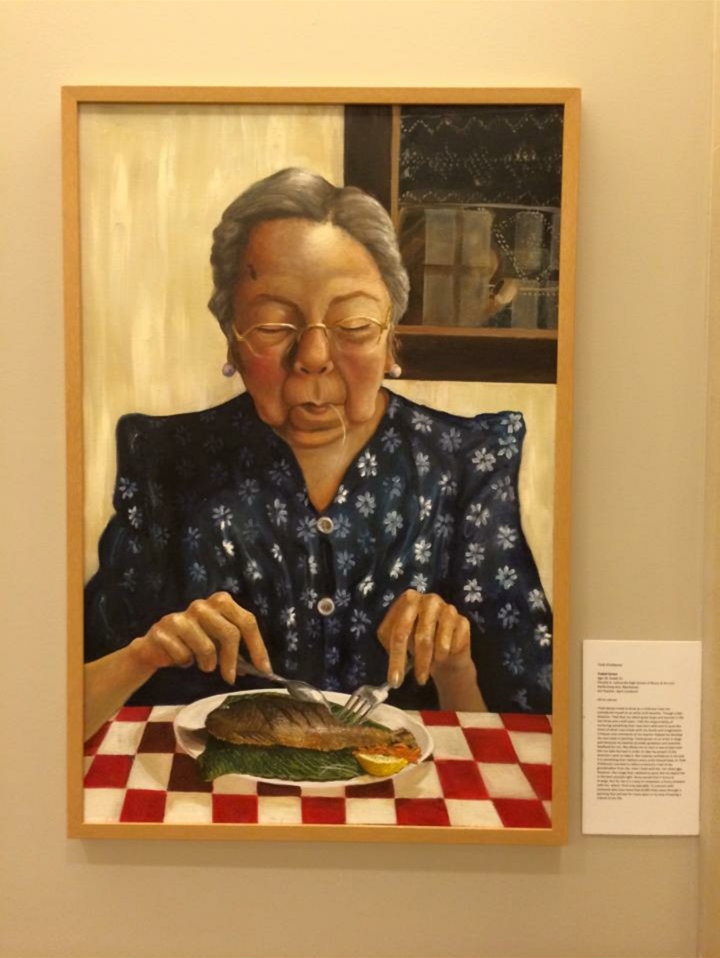 Filipino identity. "Tinik" is part of an oil portrait series based on Simon's early life in the Philippines.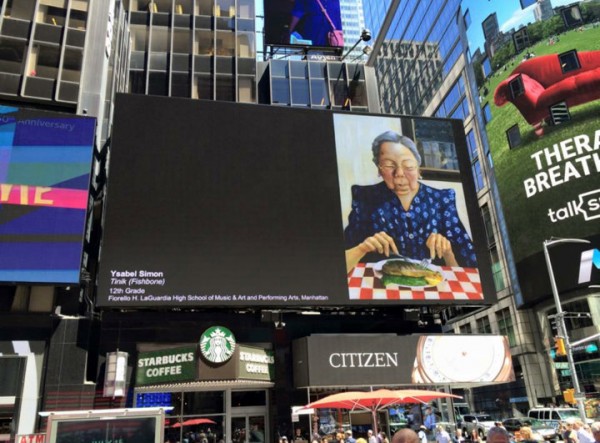 Times Square triumph. "Tinik" by 18-year old Filipina Ysabel Simon was included in the 23 works of art showcase of P.S. Art in Times Square.