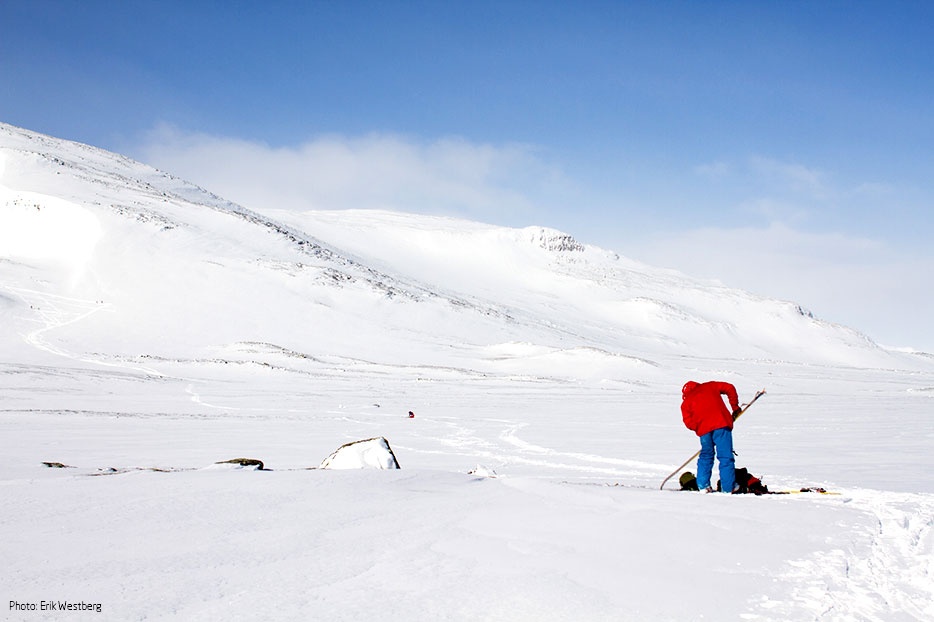 At 1796 meters above sea level , Helags in Jämtland, Sweden, is a piece of natures own art.
At Houdini, we love to go our own way. It doesn't have to be that extreme, but a few hours of ski touring aside the tracks can be a real adventure and a memory for a lifetime.

Skier Erik Westberg told us about his favourite spot – Helags in the Funäs mountains, Sweden.
The easiest starting point is from the parking spot at Kläppen, Ljungdalen.

The first pitch is probably the hardest part with its 10 km of flat touring with climbing skins. But go easy because once you reach the mountain station the fun begins.

Once at the mountain station, why not stay for a picnic? You are now 1000 meters above the sea level and the view is very nice. A few hundred meters from the mountain station is where the climb begins.
When you have started the climb, go left around the crater. Enjoy the beautiful view over one of Sweden's southernmost glacier. Follow the ridge around the crater, which should be an easy climb. Once you pass a dear fence you will be at 1600 meters above sea level. The climb should still be easy and you will soon see the "Pre-peak". When climbing the last few hundred meters, it is good to zig zag your way up so you don't get a climb that is too steep.
At the "Pre-Peak", which is about 1680 meters above sea level, you got the option to visit the main peak which is about a 100 meter climb along a rig. Not very advanced climbing with climbing skins, but it can be a bit tricky with bad snow, so the skiing back to the Pre-Peak is not that good. But the view from the Peak is amazing and the east side has a precipice, which is 200 meters at the highest point. Deadly, but beautiful!
When you have taken a breather, and enjoyed the beautiful view, it's time to get back to the Pre-Peak. This is where the fun starts and you got about 700 vertical meters of enormous ground to ski. Don't ski to close to the rig.
Make sure you are aware of avalache risks, and only ski where you feel you are safe.
Ski south and at the bottom turn to the north to get back to the parking lot. Stay safe and have fun!

The easiest way to Helags and the Funäs Mountains is from Östersund, Sweden.
Read more about Helags at STF's website:
STF Mountain station Helags